Natural Stress Relief
Stress makes you feel lousy! Tired by day-restless by night… That's why we created miniCHILL®, the world's first and only non-drowsy stress relief shot. It contains Relarian™, a doctor formulated natural herb and amino acid blend backed by scientific research to help reduce stress, boost mood, and improve focus. Its non-drowsy formula can be enjoyed anytime, so whether you're at work, leisure or out on the town everything is better without stress.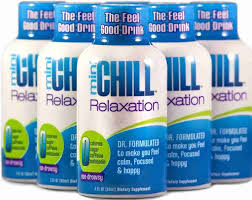 Stress & Health

Stress adversely affect the quality of your life-you do not have to live with it
How It Works

Clinically proven ingredients: Valerian Root, GABA, L-Theanine and 5-HTP.
Medical Report

Read what the international board of doctors have to say about miniCHILL®
The World's ONLY Scientifically Proven Relaxation Shot!
miniCHILL® is the world's only relaxation beverage with published peer-reviewed scientific research backing its effectiveness. Stevenson Products utilized health experts including Dr. Benjamin S. Weeks to formulate miniCHILL®. Together, we worked closely to first isolate and then combine the four most proven nutraceuticals known for stress relief and mental focus. We avoided the controversial sleep hormone melatonin because it DOES NOT belong in relaxation drinks. Stevenson Products understands the fundamental difference between relaxing and sleeping.
miniCHILL® was created as the answer to todays fast paced over caffeinated world. We are constantly exposed to environmental stressors and consume too much caffeine. It's in coffee, soda, energy drinks and even many foods we eat. See for yourself why everyone from mainstream media to grass roots bloggers love miniCHILL®. It is guaranteed to improve your day or your money back!